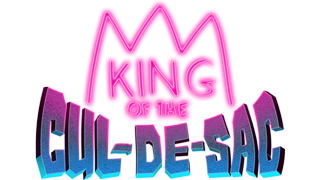 King of the Cul-De-Sac Web Edition
NOTE: This is a web-optimized build of my interactive graphic novel, and due to limitations with the game engine it's built in, some content has been cut. For the full experience, download the FREE full version below!
The KING OF THE CUL-DE-SAC is the title given to the strongest, toughest kid on the block, who rules the circle of suburban homes in the manner they see fit. With Karah's brother moving to college, she assumes she's next in line for the throne, but quickly realizes the other contenders for the crown will have to be convinced - with her FISTS!
King of the Cul-De-Sac is an interactive graphic novel that uses comics, prose, games, and music to immerse and amuse readers, while branching story paths bring them back again and again!
FEATURES:
6 Different Ending Chapters!
RPG-style Boss Battles!
Minigames and simple puzzles!
Download
Install instructions
PC: Download the zip file, right click on it, and select Extract All from the drop down list to extract it (Very Important!), then go into the extracted folder and run KingoftheCuldeSac.exe
MAC: Download the zip file, right click on it, and select Extract All from the drop down list to extract it (Very Important!), and go into the extracted folder and run KingoftheCuldesac.app